The Grove of Remembrance, located in Liberty State Park, is a 10.8-acre tract where over 750 mature trees, one tree for each New Jersey victim of September 11, 2001, are planted. This memorial allows all who visit a peaceful place to reflect while viewing the Manhattan skyline and the area where the Twin Towers once stood.
The Grove of Remembrance includes two walkways that run the length of the tract. The "active walkway" is a tree-lined, linear pathway that leads from one end of the memorial to the other.
The "Walk of Remembrance" is a meandering path that allows visitors to take their time getting from one end of the memorial to the other. At the middle point of the tract, both walkways are linked and lead to a circular area that is the focal point of this Living Memorial.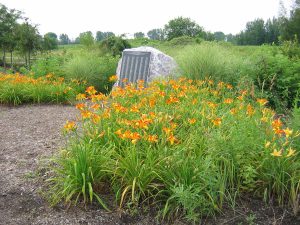 Here at the Memorial Circle, a large plaque with the names of the New Jersey residents who perished is mounted on stone. Donated shrubs and perennials are planted along the split rail fence and in numerous planting beds. The Grove of Remembrance also includes lawn areas where visitors may sit in the sunshine and reflect upon the changed Manhattan skyline.