Lisa Simms: NJ Tree Foundation Executive Director
Cat lover, tree hugger, day laborer at heart. Executive Director of the NJTF.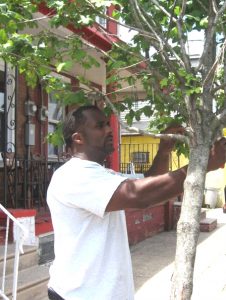 James Cunningham: Urban Forestry Technician
James supervises our tree planting crew, takes care of NJTF equipment and bails us out when it rains on tree planting days.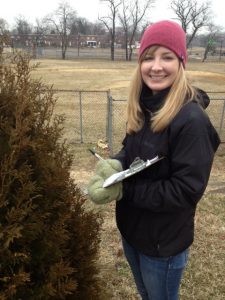 Beth Kwart: Development Coordinator
Beth joined the NJ Tree Foundation staff in January 2013. She is our first-ever grant writer, focusing on raising funds to sustain and grow our programs throughout the state. As a nature lover and active environmental volunteer in her community, Beth is proud every time her family and friends use reusable shopping bags, water bottles, and coffee mugs.
Elena López: Program Director, North Jersey 
Elena joined the NJ Tree Foundation in January 2013, and is very excited to have become a professional tree-hugger.  She earned her Bachelor's degree in Environmental Studies and Anthropology from Franklin and Marshall College. When not hugging trees she can be found playing Ultimate Frisbee, taking photos, traveling, or just enjoying the outdoors.
Meredith Brown: Program Coordinator, South Jersey

Meredith is the new Program Coordinator for our Urban Airshed Reforestation Program in South Jersey.  She is thrilled to be a part of the team!  Meredith has a B.A. in Political Science from West Virginia University.  Apart from planting trees, Meredith enjoys books, coffee, thrift stores, and spoiling her dog, Charlie.